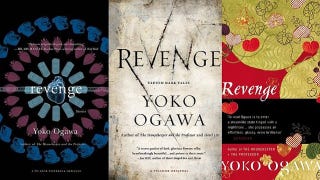 At first, Yoko Ogawa's new story collection Revenge just seems like a slightly weird, slightly sad collection of literary stories. The first few stories feel like your standard funny little tales of strange, lonely people who are with other strange, lonely people.
Science fiction and fantasy are all about reaching beyond the horizon — so it's not surprising that many of the greatest speculative fiction authors have broadened their own horizons. And you can see it in their writing, because the experience of negotiating a very different culture and learning another language…
For the past few months, everywhere I go in San Francisco, I see young people in cool outfits all reading the same book: Haruki Murakami's long-awaited 1Q84. Not long ago, I was in a café where three out of the dozen patrons all had identical hardcovers, with the same blank stare gazing upwards from their dense pages.
Update 2: Last week, and throughout yesterday, I was unable to download 1Q84 on multiple devices, or share public notes and highlights. I can now, but largely thanks to this article. Amazon customer service initially identified this as an issue specific to the title. In fact, it now appears to have been an Amazon…
Anybody who cares about noir fiction should read Domenic Stansberry's scathing rebuke to the calcification of the genre. (And since noir is the fundamental inspiration for a ton of urban fantasy right now, as well as much of the cyberpunk genre, pretty much anybody who's interested in well-written science fiction and…
Japanese literary darling Haruki Murakami and fantasy author China Mieville have a lot in common: their use of language, their thoughtful creation of a "secondary world," and more. So why don't people read both? Eric Rosenfield wants to know.
We've been wondering for a long time which author could replace Philip K. Dick as Hollywood's idea spigot. But now a strong candidate has emerged: Haruki Murakami, the Japanese master of weirdness who's already spawned two movies.
Isaac Asimov awoke each morning 6 AM and worked well into the night, sometimes churning out entire books in a matter of days. Kingsley Amis' writing binges were fueled by nicotine, alcohol, and numerous cups of tea, while surrealist Haruki Murakami claims to work himself into a routine-induced trance. Take a gander at…
The master of frantic surrealism, Haruki Murakami, joins the chorus of authors saying that we're living in a science fictional era now. The Hard-Boiled Wonderland And The End Of The World author told the San Francisco Chronicle, "We are living in the future now, in a kind of science fiction — 9/11 itself was kind of…