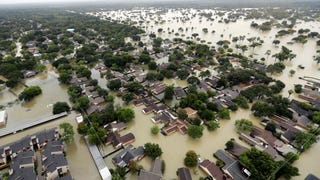 The National Weather Service is reporting 49.32 inches of total rainfall at a site southeast of Houston, which now marks the greatest accumulation of rainfall ever recorded in the contiguous United States on account of a single tropical storm.
Hurricane Harvey and its remnants have managed to dump likely record-setting amounts of rainfall across Texas. The Weather Channel expects that some locations could see accumulation totals of 50 inches before the weather finally lets up. Some locations around and outside of Houston have already have seen floods higher…
The remnants of Hurricane Harvey continue to dump rain on the Houston area. Flooding is only expected to get worse this week, with National Weather Service flood warnings lasting until Wednesday evening. And humans aren't the only ones being affected by the storm's wrath.