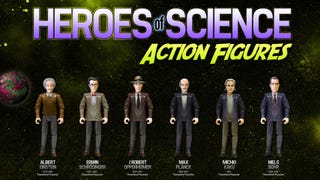 Yesterday we told you about the world's greatest Agent Coulson action figure. At the time, we called it the world's greatest action figure. But AF-Coulson would do well to watch his back; over on deviantART, graphic artist datazoid has put together a series of digitally painted "Heroes of Science" action figures…
The discovery of the Higgs boson is kind of a big deal. Stephen Hawking certainly thinks so: he says it should net Peter Higgs, the scientist after which the particle is named, a Nobel prize. But it's not all good news, because the result has lost him $100.
According to Stephen Hawking, building a time machine isn't hard: "All you need is a wormhole, the Large Hadron Collider or a rocket that goes really, really fast." Just grab one of those and hop right through the fourth dimension.
Super genius and physicist Stephen Hawking is supposed to make a full recovery from his chest infection, but is being kept for observation in the mean time. [MSNBC]
Ok, so we're not sure about the rating part (yet), but lonely British physicist Stephen Hawking is about to star in his first movie. Titled "Beyond the Horizon," the Imax 3D film will bring Hawking and his high-tech wheeelchair to the big screen. In it, Hawking is approached by a young, voluptuous reporter eager to…
This odd-looking gadget from Hawking doesn't pick up alien signals, but it does let you boost any WiFi signal by up to a hard-to-believe 300 percent. The HWU8DD Hi-Gain USB Wireless-G Dish Adapter connects to either a computer or laptop using Wireless-B or Wireless-G network and a USB connection, and uses dish…