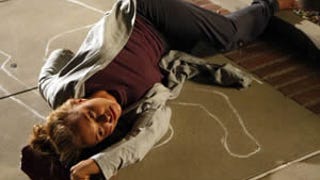 Think that Heroes' "Claire Explores Her Bi-Curious Side" plot is cheap exploitation designed by male writers to titillate a diminishing core of male fanboy viewers? You're only half right. Turns out, the whole thing is star Hayden Panettiere's idea.
When NBC's Heroes returns later this month, expect the best season since season one, according to stars Masi Oka and Hayden Panettiere. Just don't expect to see too much Ando/Hiro bromance, and not because of Hiro's terminal illness.
Also, that's a Kindle DX she has in her hand, not a Kindle 2. Everyone else on the Heroes set needs to stand on apple boxes to hide the fact that she's six-foot seven.
Heroes' flaxen-haired cheerleader wants Peter Petrelli dead. Now that Hayden Panettiere has stopped dating Milo Ventimiglia, she's miffed that producers insist on keeping him on set.
Hayden Panettiere let it leak that Heroes won't be back for the rest of the season, even though the strike is coming to an end. Maybe this will allow the writers to focus on Season Three (Season 2.0 Redux?) and come out of the gate with a bang instead of a whimper. After all, we know they've filmed part of Volume…

At the Jules Verne Adventure Film Festival last month during the Heroes event, we noticed that Milo Ventimiglia and Hayden Panettiere were canoodling with each other the whole time, whispering back and forth like giddy schoolkids. But, we chalked it up to nerves and confusion about what was going on during the Q&A.…
Jack Coleman has the enviable position of breathing life into television's best and worst father each week on NBC's Heroes. During the day he'll be bringing home teddy bears to his indestructible daughter Claire, while that night he'll gun someone down and work with genetically mutated viruses. He's gone through more…
It's not quite Monday without a new episode of Heroes, so we're bringing you the next best possible thing: an interview with creators Tim Kring and Jeph Loeb and a slew of photos of the cast. Check everything out after the jump — it's something to do while you wait impatiently with the rest of us for the writers…
Is season two of Heroes all about incest? It sure starts to look that way. The uber-connected Kristen at EOnline speculates that Claire's new boyfriend could be her cousin, since he has the same power as Claire's biological dad. And Claire has the same power as the fake Samurai hero Kensei — who will soon be turning…