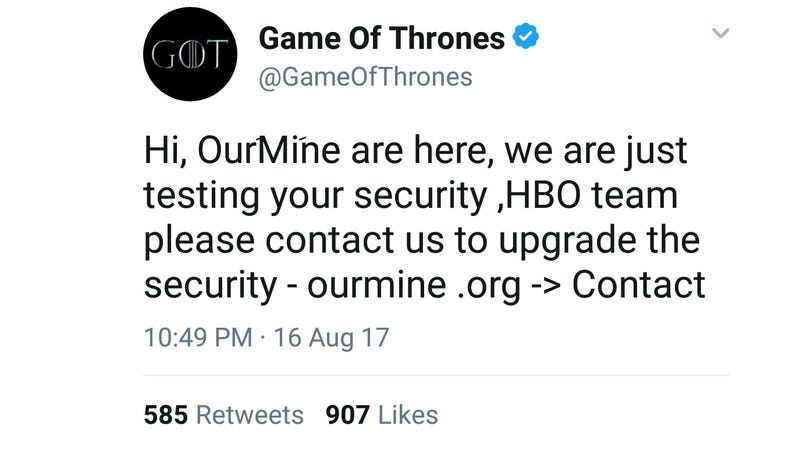 Cable giant HBO's very embarrassing 2017 has continued to get more embarrassing. On Wednesday night, hacker squad OurMine Security Group compromised Game of Thrones' Twitter account, posting a message to its 6 million plus followers saying "Hi, OurMine are here, we are just testing your security."
Sometimes, confidential information leaks online because attention-thirsty hackers broke into your servers. And sometimes, the fuck up is coming from inside the house. In the case of season seven, episode six of Game of Thrones—which leaked online today less than a week before its scheduled air date—it was decidedly…
Bored hackers who aren't getting paid tend to get restless. And so, on Sunday, the cyber thieves behind the recent HBO breach leaked several unreleased episodes of Curb Your Enthusiasm, which was scheduled to return in October after six years off the air. HBO, understandably, seems annoyed.
Episode 5 of the penultimate season of Game of Thrones will air on Sunday. As with episode 4, an outline of the script has been circulating online in what seems to be the latest leak from the huge HBO hack. And suddenly, it seems like the "cyber incident" that some people—including this blogger—thought would be…
The hackers behind a massive intrusion into HBO systems have released a month's worth of a senior HBO executive's emails, dumping a "publicly accessible link to a cache of internal documents" which also included the script to yet another upcoming episode of Game of Thrones, Hollywood Reporter wrote Monday.

Season seven, episode four of Game of Thrones is now in the wild. The leaked video comes less than a week after HBO admitted that its servers had been hacked and a large quantity of data had been stolen. We already knew that a script—or, more specifically, an outline of a script—of episode four was part of the hack.…
Well, this isn't terribly surprising. According to the latest dispatch from Variety, the hackers who broke into HBO's servers and stole 1.5 terabytes of data, including at least one Game of Thrones script, also stole employee data. More specifically, the hackers made off with "thousands of Home Box Office (HBO)…
It's cyber deja vu time in Hollywood. HBO just confirmed that hackers broke into their servers and stole an unknown quantity of data. Now, unreleased episodes of Ballers and Room 104 have appeared online as well a script that looks an awful lot like next week's Game of Thrones episode. This is not a drill.