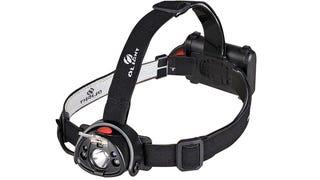 Headlamps aren't just for overnight wilderness treks, a hands-free light source can be useful for everything from detailed hobby work to fixing a car. And Olight's H15S is particularly useful for that last application, allowing you to activate its bright LED lamp with a simple wave gesture when your hands are covered…
Technically, the Snow Peak SnowMiner LED Headlamp is for hiking in the dark. But when you see the words snow and headlamp together, can you think of anything besides snowboarding in the dark?
Up 100 lumens of illumination, distance and strobe modes, red LEDs to preserve night vision, and a fully waterproof body. Yes, the Black Diamond Storm is an oddly appealing sounding headlight.
Sometimes you need a light that you can set on a table. Sometimes you need a light you can strap to your forehead. The 130 lumen Gorillatorch Switchback just happens to be both.