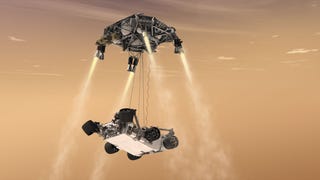 NASA's Mars Science Laboratory will set down on Mars, via a revolutionary landing system dubbed the "sky crane". The idea is to lower the rover from the delivery spacecraft, as the latter hovers above the surface of Mars. Once the rover has landed, the delivery vehicle will touch down at a safe distance.
The Helios Odyssey, a 1TB, $169 storage center for your media files, just got an update for BitTorrent and Emule downloading capability. BitTorrent isn't anything brand new in Network Attached Storage devices such as the Planex and Procare and Jack In The Box, but Emule (something we used before BitTorrent became…
The price of upscaling video free-falls even more with the Helios H2000 upscaling DVD player. Sure, this one can only crank your video up to 1080i, but its $99 price makes that quite an attractive option. It can also handle XviD, the efficient video format that's one of our favorites, and also popular among those who,…
We've looked at three Upconverting DVD/DivX players, and although it would be a great idea to put them up against each other, the fact that they're at three different price points kind of negates the premise.
We've been fans of the Helios H4000 upconverting DivX player for a while, thanks to its slim form factor, 1080p output, and relatively low price. But if you're looking to go one level up to a connected player, the Helios X3000 is the one for you. Combining the H4000's playback features—which decodes DivX, MPEG1/2/4,…
The last time we looked at the Helios H4000, we thought the combination of multiple format support, 1080p upscaling, and low, low price made this an incredible buy. Now that i4u got their hands on one, we can definitely say this is worth your money.
No, this isn't an HD DVD player, but it claims to be a high-definition DVD player—big difference. The Helios HVD2085 tries to turn your moldy oldy DVDs into pretty, high definition-ness. Via the component cables this DVD player can output to 720p, 1080i and even 1080p. Via HDMI the HVD2085 can output to an assload of…