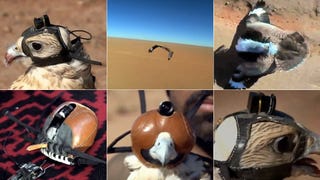 Helmet cams are amazing at getting a first person perspective on any situation, you're literally able to see what they see. So how about attaching a little helmet camera to a falcon? Yep, you get to see what it's like to fly (surprisingly not shaky!) and see what it's like to hunt and kill (unsurprisingly messy).
This guy, 87mcmahan87 on YouTube, is one ballsy son of a gun. Just watch this video. He recorded himself zooming around on his motorbike on a super skinny and snowy mountain ridge in Colorado. I almost died watching him balance, teeter and tease fate like a madman. If he slipped up, he would've came crashing down to…
Sure, I know that human slingshots aren't exactly new but not new doesn't mean they're not fun. In fact, like this video proves, if you get a group of friends together with a few helmet cams, video cameras, an ATV and a human slingshot, you'll have the time of your freaking life.
A curious father strapped a GoPro camera onto his daughter's head to see what her life was like. Unsurprisingly (or surprisingly!), it was completely random, sometimes shrieky, borderline drunk, mostly unbalanced but oh so incredibly fun. [Reddit]
So this is something: according to one of Business Insider's sources, Barack Obama watched the entire raid of Osama Bin Laden's compound live via a helmet cam feed. Badass.
Armed with a GoPro HD attached to his helmet, Stephen Ager recorded some absolutely stunning views of the top of the world. But it's not all prancing snowflakes and fresh powder because later in the video, Ager loses his footing and tumbles down the wrong side of the cliff. The GoPro HD captures every single moment…