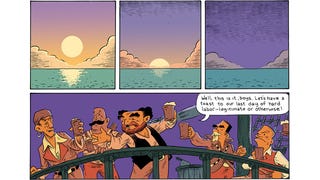 There's more to Ben Towle's freshly Eisner-nominated webcomic Oyster War than its visual homage to Hergé. It's a funny but wonderfully restrained pulp adventure about a group of oyster pirates looking to pull a supernatural caper—and the crew of misfits battling them to save the seabeds.
We've seen many a bizarre Tintin homage in our day, but this comic strip by the illustrator Yop! over at French comics site Mooloozone is especially neat. It's in French, but the plot should be pretty familiar to any X-fan. The only major difference is Wolverine mentions Loch Lomond. I always assumed he was a Canadian…
As one of io9's Hergéophiles, I've been absolutely digging Dan Hipp's apocryphal adventures of Tintin. Now he's teamed up the boy reporter with a familiar playboy industrialist. Will Tony Stark put Captain Haddock on the path to sobriety? Tintin's armor really should have a built-in tungsten cowlick, though.

We've previously featured parodies of globe-trotting Tintin covers, and here are 12 more of his never-was escapades. Watch as Hergé's boy adventurer, his faithful dog Snowy, and Captain Haddock battle the Teen Titans and enter the Grid.
Earlier this week, images from Steven Spielberg's Tintin: The Secret of the Unicorn hit the web. Here are some more shots from the film, including our first look at Nick Frost and Simon Pegg's hapless detective duo, Thomson and Thompson.