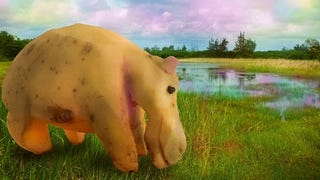 British artist Alex Matthews carves absolutely delightful creatures from fruits and vegetables, like this potato-hippo (above) and this parsnip-giraffe "paraffe" (below)!
Look, a lot of people have crazy life stories to tell. They bought a used car formerly owned by Bob Saget or they were on a camping trip, peeing behind a tree when a bear walked by. Quality stories all. But this South African tour guide was, and I can't emphasize this enough, actually in the mouth of a hippopotamus.…
The BBC has posted this footage of the rare pygmy hippo, taken by a zoologists' group camera trap in Libera. Soak in the cuteness as it delicately chomps its way through the midnight underbrush. These little/big creatures are currently considered an endangered species.