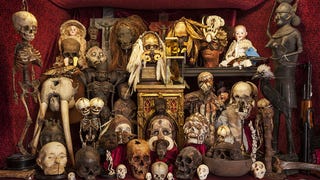 Seriously, any museum with a "Cabinet of Death" display is something you don't want to sleep on. The Viktor Wynd Museum of Curiosities in London displays the entire collection of the proudly eccentric Mr. Wynd, and it's full of weird and wonderful things (mostly weird though).
My friend Anna Maria Cool recently mentioned she suspected Batman was a hoarder. The seed was planted. I knew I wouldn't stop thinking about it until I drew something about it. I can stop thinking about it now.
The Cold War ended a long time ago, so you can maybe forgive the government's internal spook-hunters for becoming a little lax compared to the old days. But letting a 67-year-old man ferry top secret documents to his home in a '91 Toyota Corolla? Gonna need a good explanation on this one, guys.