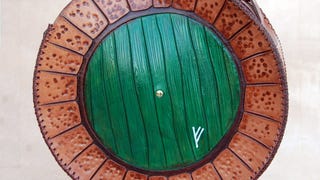 This leather bag crafted by Esty user Forgiantica Leather is a delightful recreation of Bag End's front door - complete with Wizard graffiti!
As if Hobbit homes weren't small enough, check out this fantastically detailed bonsai created by English artist Chris Guise.
When we last saw famed actor/lunatic Gary Busey, he was talking incoherently (which I know is kind of redundant when describing Gary Busey, but bear with me) about Hobbits. Today, Busey is back to educate us further on these tiny denizens of Middle-Earth, specifically their proclivity for fucking each other. In…
Famed actor/lunatic Gary Busey has taken time out of his busy schedule of yelling at invisible people to have a seat on a quiet, secluded hill, wear a tiny baseball cap, and tell us all about the tiny denizens of Middle-Earth known as Hobbits. I thought myself a bit of a Tolkien fan, but I'm not ashamed to say that…
Hobbit fans looking to celebrate their victories by pouring back a cool one in the same tradition as Frodo, Sam, Merry, and Pippin are in for a real treat. The Green Dragon, a New Zealand pub that recreates the look and feel of the same drinking establishment as seen in the Lord of the Rings films, is officially open…
The Brothers Grim and Grimy, who previously condensed Call of the Cthulhu into two minutes, have now Cliff-Noted J.R.R. Tolkien's The Hobbit. They play it pretty fast and loose here. Did you know Gollum was a chupacabra?