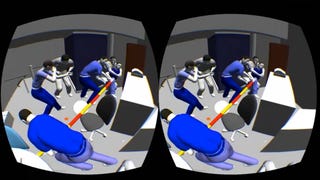 Is the Oculus Rift headset poised to become a game-changer in the courtroom, offering juries a way to evaluate evidence in greater detail than ever before? According to new research, "forensic holodecks" (yep, that's a Star Trek reference) that reconstruct crime scenes could soon become valuable courtroom tools.
Melinda Snodgrass is best known for writing the Star Trek episode where Data's personhood gets put on trial. But in the mid-1990s, she created Star Command, which took Trek's holodeck much, much further. Just check out this holo-torture sequence. Edgy!
It's a terrible cliche — the television episode where our intrepid hero goes inside the cyber-world and things start going terribly wrong. Star Trek owns the holographic disaster story, with its litany of holodeck mishaps, but plenty other shows have gone there. Here are the 10 worst holodeck stories. Ever.
Ron Moore's awesome virtual-reality thriller, Virtuality, may be the freshest, most challenging work he's ever come up with. Fox has been sitting on the two-hour pilot for months, but it looks like it'll finally air.
Since science fiction was invented, the real world has followed in its footsteps, whether it's language or replicating fictional moral dilemmas. But there's one area where the real world is sadly lacking: science-fictional sextoys.