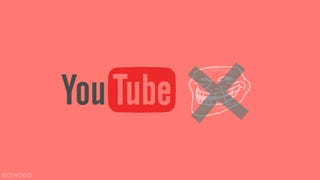 Ever read the comments on a popular YouTube video? There is no faster way to strip yourself of faith in humanity. It's a cesspool. And this is coming from someone who writes for the Gawker network. We know a little something about rowdy comments sections. YouTube's is worse, but it's finally about to smarten up.
This week, we wondered whether a boycott against the Ender's Game movie—prompted by author Orson Scott Card's particularly disgusting views on homosexuality—might be successful. It seems that Lionsgate, the studio distributing the film, is taking the prospect of a boycott seriously, issuing a statement to distance…
It's long been theorized that many hardcore, anti-gay homophobics are often repressed homosexuals themselves. There certainly has been a lot of anecdotal evidence from notable political figures to support this theory, but now science is stepping in with some raw data.
You have to hand it to Ender's Game author Orson Scott Card. He already reworked Iron Man's origin so that Tony Stark's entire body is made out of brain matter that lets him regenerate severed extremities. And now Card has rebooted Shakespeare's Hamlet. What could possibly go wrong?
It's only taken 120 years, but the full text of Oscar Wilde's novel The Picture of Dorian Gray has finally gotten published. Wilde's editor J.M. Stoddart removed a large amount of "objectionable" material from the book prior to its first appearance in Lippincott's Monthly Magazine in June 1890, including "a number of…
An older man was beaten and stabbed to death by a younger man; they had arranged a date. The younger man was tracked down by police using the same iPhone social networking app that likely brought the two together. Updated
Looking for the best place to get a drink at next week's San Diego Comic-Con? Apparently, it's not the Hyatt - formerly one of the most popular watering holes for SDCC attendees - which is currently embroiled in a controversy over its (former) owner's political views. As comic professionals call for a boycott of the…
According to evangelical pastor and former NFL linebacker Ken Hutcherson, Microsoft is totally gay. He is rallying his megachurch, which has 3,500 worshipers, to buy stocks in Microsoft to vote down their gay-friendly policies. He hopes to get homophobic dicks from all religions - Christianity, Judaism, Islam, and…
Come on people. We're trying to have civilized discussions here, so let's be on our best behavior. If you're curious as to what it takes to get a swift and brutal bonk on the head from the banhammer, former Gizmodo commenter God-Father was kind enough to sacrifice himself to show everyone how not to behave.