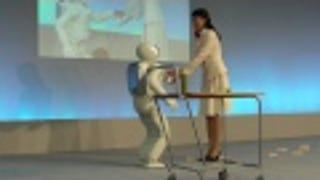 Asimo, Honda's adorable humanoid robot, has been known to conduct symphonies and climb stairs, but what has he done for you lately? The new Asimo desktop widget maintains the little robot's endearing demeanor while adding some new functionality.
Asimo is the de facto face of modern robotics, but how much do you really know about him? The new Inside Asimo page explains it all, with interactive animations, diagrams and requisite robo-charm.
Honda research engineers have given Asimo the ability to understand three voices at once, thanks to an array of eight microphones that can recognize each voice individually. The recognition software, HARK, can process the commands with 70-80 percent accuracy and the microphones are placed all over Asimo's head and…
It looks like there's no end to ASIMO's skills: the smart, cute robot will pick up the baton and conduct cellist Yo-Yo Ma and the Detroit Symphony Orchestra on May 13th. A robot conducting an orchestra? That's pretty amazing, we think. Honda's ASIMO and the 15-times Grammy winner musician will be performing a piece…
Next step: making Asimo useful.