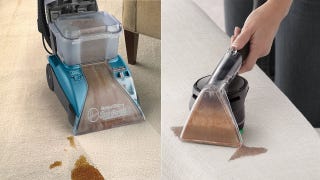 If you've never steam-cleaned a carpet, get ready for an eyeopening experience when you see just how much crap a person can track into a home. At $70 (its best price ever), this discounted Hoover SteamVac is perfect for keeping your carpets actually clean as opposed to just looking clean. Plus, its accessory hose is…
If you've never steam-cleaned a carpet, get ready for an eyeopening experience when you see just how much crap a person can track into a home. At $74 (its best price ever), this discounted Hoover SteamVac is perfect for keeping your carpets actually clean as opposed to just looking clean. This being a Gold Box…
It's 2016, and your vacuum shouldn't have a cord anymore. The Hoover Linx features an 18-volt battery, a motorized brush that you can turn on and off, and an easy-to-empty receptacle, all for an all-time low $87. Just note that this is a Gold Box deal, so be sure to get yours before they're all vacuumed up.
There's still no definitive reason why every home should have a 3D printer, but as more and more companies allow consumers to print their own parts and accessories, the case for owning one gets stronger and stronger. And following in the footsteps of Hasbro and Martha Stewart, Hoover will now let consumers print their…
No one likes having to deal with cords, and they're a particular pain when connected to a device that's able to suck them up and destroy them. So Hoover's new Air Cordless vacuum manages to finally make a cordless vac that's actually useful with a pair of rechargeable batteries that keep it running for almost an hour…
We've already seen Richard B. Hoover's claim of finding alien life get debunked. Now NASA, whom Hoover once worked for, is disavowing his report as well, saying no one supports Hoover's claims. Apparently, to them, there's a lot of stuff there but not too much science. [AP]
While discussing legislative measures concerning cyberterrorism, several legislative aides on the Homeland Security and Governmental Affairs committee said that we need to protect ourselves from hackers who could open Hoover Dam and kill thousands. But is that scenario even possible?
What happens when the people behind Wallace & Gromit turn their attention to throwing two obsolete gadgets in the Thunderdome? A stop-motion animated video I can't stop watching, that's what happens.