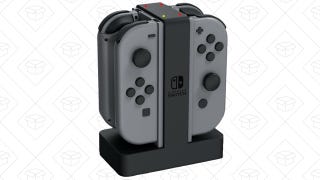 If you own more than one set of Joy-Con for your Nintendo Switch (and Mario Kart exists, so why wouldn't you?), it can be a pain to keep the spares charged up. But this $26 stand from Hori can juice up two pairs at once while you play a game with the far superior Pro Controller.
The PS3 Slim wasn't much lighter than the previous model, but that hasn't stopped crafty Japanese manufacturer Hori from cobbling together a portable PS3 Slim with a 720p LCD screen.
You could buy the $15 Xbox Live Arcade game Virtual On: Oratorio Tangram and play it with a regular controller. Or you could cowboy the fuck up and buy Hori's $323 dual joystick controller designed specifically for Virtual On.
Street Fighter IV isn't the only fighting game out there, you know. Tekken 6 is coming, and with it is a $150 wireless fighting stick bundle from HORI.
The Hori Classic Controller isn't just a Wavebird knockoff for the Wii. It's a strange amalgamation between the old and new, borrowing the iconic Wavebird formfactor while simultaneously swapping those ridiculous Wavebird controls for the more practical 4-button setup from the SNES/Classic Controller and a pair of…