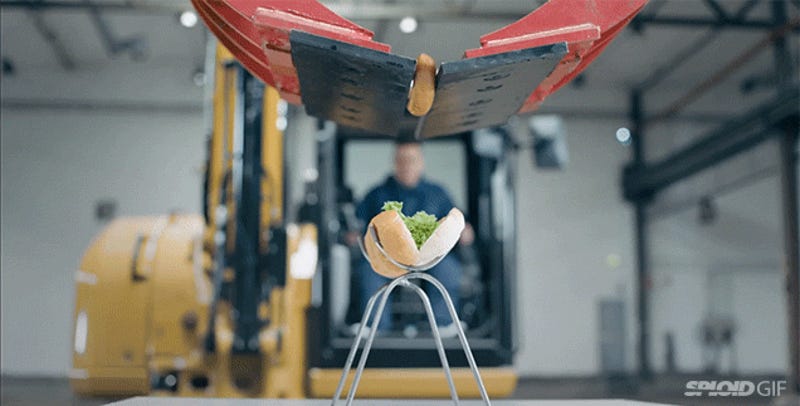 Don't ask me why there needs to be lettuce in a hot dog or what kind of dark red sauce they're squirting (*gasp* if it's ketchup), but it's still cutely impressive to use a giant machine like an excavator to make something as silly as a hot dog. The dexterity of the giant claw puts our little human fingers to shame.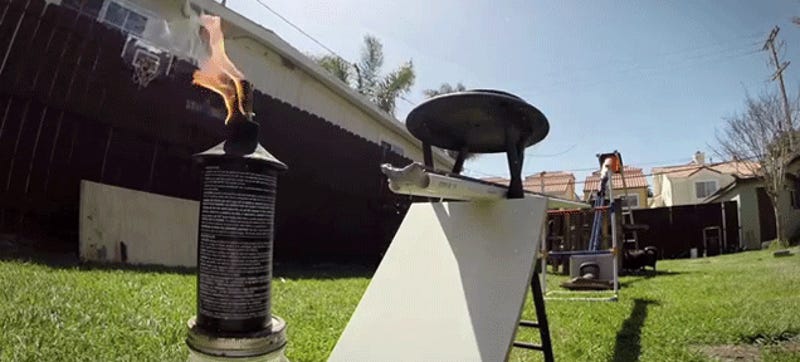 You would think that you could only do so much with golf trick shots but David Kalb, trick shot extraordinaire, takes it to another level. He rigs his trick shots so they have to be absolutely perfect because they eventually turn into Rube Goldberg machines that can make hot dogs and create flaming watermelon heads.
What are the United States' best regional foodstuffs? Its worst? These are the questions that bedevil the mind of man—but no longer! For here, we have ranked them. Rigorously scientific (not), ardently researched (nope), and scrupulously fair (not even a little bit): this is the Great American Menu!
What I would give to wrap my legs around a big purple sausage...oh sorry, you just caught me daydreaming about Nienke Klunder's rocking hot dog sculpture. Isn't it fantastic? Apparently eight were made from fiberglass, aluminium, leather, maple wood and chrome; the purposes of which are unknown. [Nienke Klunder via …
Hot dog maker Hatfield constructed a hot dog launcher with the help of the Philly Phanatic, famous weirdo mascot of the Philadelphia Phillies, for use during Phillies games. And now, in a fit of boredom and comedic inspiration, they've released a "documentary" detailing the making of the launcher. It's absolutely…
As the winter chill sets in, sometimes you just want a wee reminder of what it's like to go to the beach or watch the game. Well, this here Ballpark Hot Dog Rotisserie and Bun Warmer from Target will bring that taste of a weenie that has been sitting on the grill way too long—even on the shortest, coldest days of the…