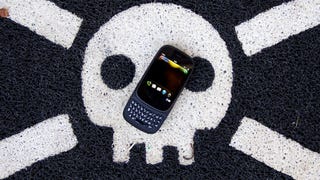 Holy shit this phone is adorable. I feel like I'm bear-hugging it with my hand every time I hold it.
HP's tiny phone for tiny hands is hitting AT&T on May 2nd, according to an invitation sent out by HP for a California launch. Keep those tiny fingers and tiny eyes on the look-out for the 2.6-inch tinyphone, wontcha? [Cvent via PreCentral via BGR]
If you want to listen to audio on headphones or transfer data via USB on the HP Veer, you're gonna need a magnetic dongle for that. PreCentral says the attachment is bulky and its magnet isn't very strong. Meh. [PreCentral]
The HP veer has the same body-shape as the Palm Pre and Pre 2, but is smaller—the size of a credit card. It's got a 2.6-inch screen, Flash, 5-megapixel camera and a slide-out keyboard. It's HSPA+, which means it's AT&T or T-Mobile.