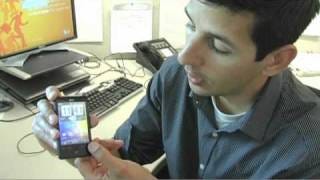 We've seen leaked pics and specs for HTC's latest touchscreen Android phone, but AT&T just made it official.
A clearer shot of the HTC Aria we saw last week has surfaced, however it sounds like the phone has been renamed as the HTC Liberty. Unless it's a different Android phone altogether...UPDATE
They're not blurry, but they sure are low-res. Nonetheless, these photos will pique Android users' interests, as they're pointed at being of the teensy HTC Aria, exclusive to AT&T.