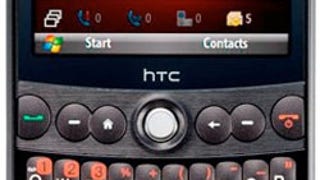 T-Mobile has finally confirmed what the FCC (and its own computers) already told us: the BlackBerry-Bold-inspired HTC Snap, a 3G, Windows Mobile 6.1 QWERTY+trackball followup to the original Dash, is arriving on T-Mobile as a successor to the original Dash.
Lest it be lost in the coming maelstrom of Apple iPhone 3G 3.0 and Palm Pre news, let it be known the HTC S511 Snap (aptly labeled a Stepford Wives take on the Blackberry Bold) has popped up at Best Buy a few days before its June 7 release. [BGR]
Reading between the FCC lines, it looks like the HTC Snap—a Stepford Wives take on the BlackBerry Bold—will be assuming the mantle of T-Mobile's Dash 3G in May. Sans clowns. Hopefully. [FCC via Mobile Roar]
I win few minutes to tinker with HTC Snap with JOG BALLS and beauty of Black berry BOLD. Two things: it's really fast and it eats lots of those weight loss pills (100 pcs.@$7.00/pill!!!)
Save for two extra button around JOG BALL and WinMo 6.1, HTC Snap is pretty much same as beautiful and the Black berry BOLD. Don't you want?