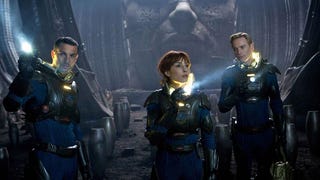 Science fiction used to be almost synonymous with "competence porn," stories about smart people who solve challenges by knowing what they're doing. But lately when it comes to movies and TV, it seems like Americans love competence porn, and they love science fiction... they just don't love them together. What happened?
It was a major breakthrough in 1995: After 13 months, scientists finally sequenced the entire genome of a bacteria for the first time.
Drawing individual strands of DNA through nanoscopic pores in a chip could do in a matter of minutes what the human genome project took more than a decade to achieve – sequence an entire human genome.
The research company Complete Genomics has figured out a way to sequence the human genome for less than $5,000 in chemicals, making it seem more likely than ever that affordable genetic profiles will become a thing of the mainstream.