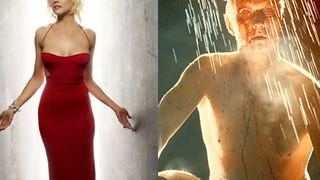 The original Terminator was finally dethroned by Caprica 6 in the Round 2 Humanoid Battle. But how will she fare against Roy Batty from Blade Runner?
Yesterday, the original Terminator won in a landslide victory over Maximilian from The Black Hole. The question now is—how will he fare against Caprica 6 from Battlestar Galactica?
Over the course of our "Machines Behaving Deadly" week, we will pit technology in a tournament of evil. Round 1 features Terminator vs Maximilian from The Black Hole.