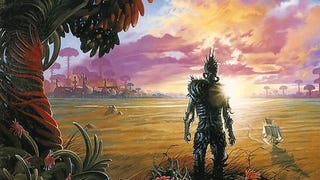 Dan Simmons' Hugo-winning Hyperion is set to become an "event series" on Syfy, courtesy of producers Bradley Cooper, Todd Phillips (The Hangover), and Graham King (The Departed), plus Itamar Moses (Boardwalk Empire), who'll write the adaptation of what's often called scifi's answer to The Canterbury Tales.
Time travel is huge at the movies right now. This Friday sees Hot Tub Time Machine 2, and Terminator 5 is coming soon. But as Predestination recently proved, the smartest movies about time warps are often based on literary sources. So here are 10 time-travel books that would make bloody amazing movies.
Check out this stunningly crispy photo of Saturn moon's Hyperion—taken by the Cassini spacecraft. Apparently it is inhabited by alien wasps the size of cars or at least it looks like a wasp nest to me. So gross!* New analysis of Cassini's data reveal that, if there are giant alien wasps, they are producing electrons.
Bradley Cooper told us that Dan Simmons' acclaimed Hyperion Cantos were among his favorite books. And now he's putting his new star power from Hangover II's huge success towards writing and directing a Hyperion movie.
One of the best Comic Con parties was the Hitchhiker's Guide To The Galaxy party that Hyperion Books threw for Eoin Colfer's continuation of Douglas Adams' classic series. We drank pan-galactic gargle blasters and talked comic space opera with Colfer.
The movie version of Dan Simmons' Hyperion has found its director: Scott Derrickson, the man who helped Keanu Reeves make the Earth Stand Still in last year's remake. Should we be afraid?
Welcome back to Development Purgatory, where we check on the status of movies that were announced with great fanfare - but never arrived. This time, we wonder why we're not sucking on futuristic drug feathers while watching a movie of Jeff Noon's Vurt. We also check on the movies of William Gibson's Count Zero, Dan…
Although Dan Simmons' literary-allusion-packed Hyperion novels have long been loved and critically-acclaimed, they've always seemed to resist conversion into film. Episodic, cyber-spiritual, and strange, the first novel tells the intertwined stories of several characters trying to get wishes granted by an entity…