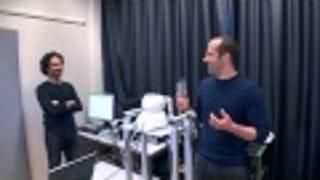 Ever get that tingly creeping feeling that someone is behind you, only to turn around and discover there's nothing there? That's called "Feeling of Presence," and it doesn't mean you're getting trailed by a ghoul. It can be a symptom of many neurological conditions, which is why scientists custom-built a robot to …
Hypnosis, and the many things it can do, has been studied for a long time. Many scientists have assumed that people can be hypnotized, but have struggled to figure out who is hypnotized, who is pretending, and who just wants to believe. It looks like now they've managed to distinguish between the three.
Animals are faster than us, stronger than us, and now dogs, at least, are gaining the ability to understand speech. Want to keep the human race from being eaten alive? Reassert your dominance with hypnosis.