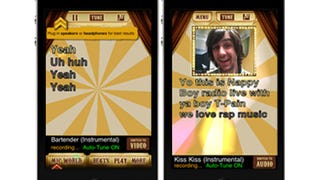 Maybe the best use of the front-facing camera I've seen yet comes from Smule's auto-tunetastic I Am T-Pain app. Because now, you can star in your own autotuned music video. It's pretty genius.
Funny idea, but Jimmy Fallon should have picked Bowie instead of Sting. I'd sell my soul to sound like Bowie. Permanently. But I will definitely take Sting over the annoying-till-your-ears-bleed I am T-Pain.
Smule, the guys who made Leaf Trombone and Ocarina, just ported Auto-Tune—the software T-Pain and Auto-Tune the news uses to make music gold—onto the iPhone. Holy crap is it awesome.