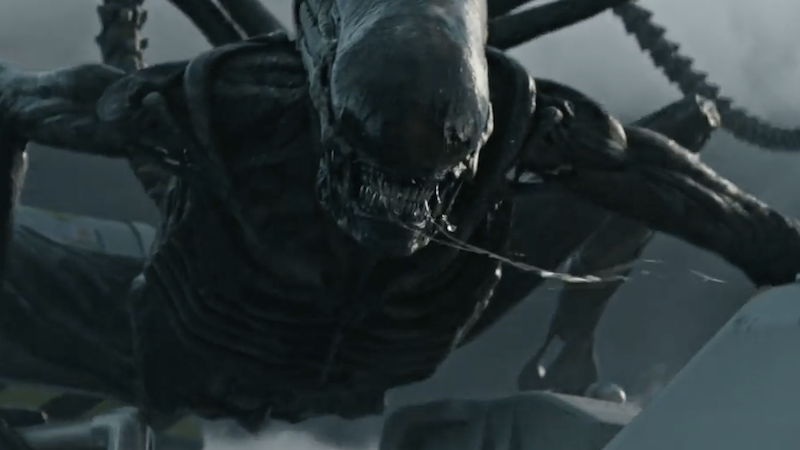 With Ridley Scott's latest installment in his classic Alien franchise, now's the perfect time to wildly speculate about extraterrestrials. In Alien: Covenant and so many other movies like it, our cosmic neighbors turn out to be real assholes. They're always trying to conquer Earth, or eat humans, or do other weird…
Yesterday the Department of Homeland Security launched a new hotline to "assist victims of crimes committed by criminal aliens." The resulting "fuck you!" from average Americans was swift and hilarious.
The Rock is starring in the new Race to Witch Mountain movie (an update of the Escape to Witch Mountain movies) — and he believes, or wants to believe, in aliens. You be the judge. At the Race To Witch Mountain press line, we grilled cast members about the existence of aliens. The lovely Carla Gugino walked away from…
Click to viewIn the nine years The X-Files was on the air, Chris Carter and co. gave us 202 hour-long episodes and a feature film. If you haven't been a diehard fan since the beginning, how are you supposed to catch up on all that before I Want to Believe comes out next week? Take heart, because there are those who…
You may find it hard to be interested in the new X-Files movie, I Want To Believe, but apparently that's nothing compared with the cast's problems. Given the chance to promote the movie in interviews, it seems as if the two stars would rather complain about how crappy it was making it in the first place.
As you probably know, some guy claimed he had definitive proof of the existence of aliens. Apparently, this video is that proof. Proof that aliens exist (and that they are just a bunch of perverted Peeping Toms.) I mean, they haven't returned our calls yet, and someone actually thinks they are snooping through our…
At yesterday's X-Files 2 panel at New York Comic-Con, creators Chris Carter and Frank Spotnitz were customarily tight-lipped about the movie's storyline. But they did drop a few new hints — and io9 managed to ask them the one question you told us was burning in your minds: have Mulder and Scully been in touch during…
At last, the X-Files movie that's coming out in July has a title. It will be called X-Files: I Want to Believe, a reference to the poster Agent Mulder had hanging in his office during most of the series. Director Chris Carter told Yahoo News, "It's a natural title. It's a story that involves the difficulties in…
Normally, we wouldn't ask, but listen: We kind of need to borrow a million dollars from you. I know, it's awkward and everything, but I promise that we'll pay it back when we can, and you'd not be giving us money, you'd be giving it to the cause of investigative journalism, I promise. After all, who wouldn't pay a…