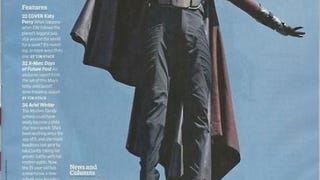 To clarify, it's the new outfit of the young Magneto, as revealed in Entertainment Weekly. While the chest armor looks a bit Batman-ish, it's still a nice mix of Magneto's comics outfit combined with the costume Ian McKellen wore in the original X-Men movies. Plus I think the dark purple is very nice. What do you…
Ian McKellan will reteam with his Gods and Monsters director Bill Condon for A Slight Trick of the Mind, in which McKellen will play the retired detective Sherlock Holmes. Based on a novel by Mitch Cullin, Holmes must solve his greatest mystery of his career without Watson, and with declining mental faculties.
The remake of the 1960s' trippiest program, The Prisoner, starts airing tonight — and instead of an acid trip, it feels like you've taken one of those psychoactive drugs that makes time slow almost to a halt.