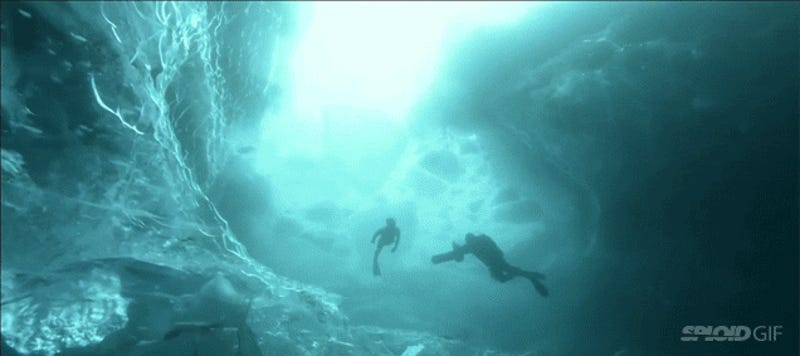 Swimming inside an iceberg looks amazing because the ice looks like glass and that's crazy, and because it kind of resembles an underwater version of Superman's Fortress of Solitude. Or at least, like a crystal palace. National Geographic shows us how a free diver explores the ice cold waters below.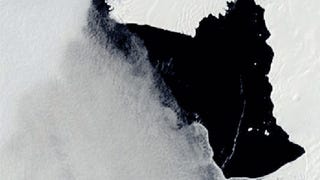 New images by NASA's Terra and Aqua satellites last week show an insanely huge iceberg now leaving the continent of Antarctica after cracking from the Pine Island Glacier in July. Its size is "estimated to be 21 miles by 12 miles (35 km by 20 km) in size, roughly the size of Singapore."
I don't buy this whole Santa lives in the North Pole thing. Obviously—looking at this picture of this incredible ice structure by Sander Klaassen—the real Santa must live in Pleneau Bay, Antarctica. The fake Coca-Cola one is the one who lives in the North Pole, with the polar beards. [National Geographic]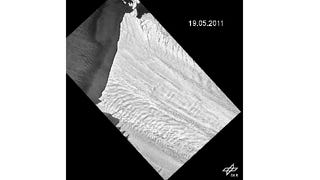 NASA satelite imaging has revealed that a massive crack in Antartica's Pine Island glacier is growing fast. Which is bad. But the GIF it's made is so good it almost makes up for it.
An enormous chunk of the Wilkins Ice Shelf in Antarctica started collapsing a few weeks ago. The slab, roughly the size of Connecticut, is "hanging by a thread." What will happen when over 5,000 square miles of ice break free? It could be a part of the coming ecological apocalypse. But if we just use the right…