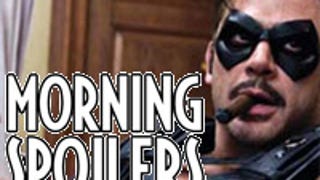 Discover Lost's new archvillain, who may be someone you already know. Also, this weekend's Doctor Who may not end the way you're expecting. James Cameron talks Avatar 2. Plus Wolfman, Imaginarium, Fringe, Chuck and Day Of The Triffids spoilers!
You sort of expect concept art from a Terry Gilliam movie to be even more anarchic and topsy-turvy than the movie itself. And newly released Imaginarium Of Dr. Parnassus concept art doesn't disappoint.
Are some long-absent Doctor Who monsters coming back? See for yourself! Learn how Lost's castaways reunite, and what woman from Bill's past is appearing on True Blood. Plus Fringe, Supernatural, 2012, The Prisoner, V, Dollhouse, Dr. Parnassus and Smallville spoilers.