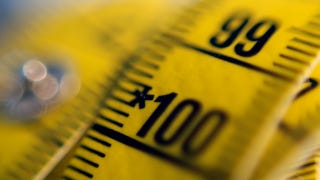 When we saw a 'We the People' petition to the White House to make the US move to the metric system, we listed very sensible reasons why the US should listen: The imperial system is archaic, irrelevant, doesn't scale easily and to be honest, there are just too many damn units to keep track of. Well, the White House…
The US has a love affair with imperial units: height in inches, milk in quarts, weight in pounds. You name it, and it's measured in imperial. The only problem? Imperial is dumb. So let's cast of those shackles and join the rest of the world by embracing units that make sense. Let's go metric, once and for all.
This is kind of cool: there is a full size stormtrooper—and a small R2-D2—guarding one of the Don't Do Evil Galactic Empire's data centers. Oh the irony.
Is that a bearded, lightsaber-wielding Han Solo?! You bet your ass it is. This t-shirt features early concept art drawn up by none other than legendary concept designer Ralph McQuarrie — the man behind much of the look and feel of the original Star Wars trilogy. This is just one of over 20 new Star Wars tees being…
The only way this stunning AT-AT walker boombox could produce a more forceful nerdOMFGasm is if it was being straddled by Scarlett Johansson in a Princess Leia bikini.
Although most of the stormtroopers in the Star Wars movies turned out to be vat-grown clones of Boba Fett's daddy, perhaps some of them were citizens from around the Empire doing their duty. These concept art recruitment posters by Feng Zhu might have been plastered in cantinas and spaceports around the galaxy in an…
SANTA'S FACTORY, North Pole (Agencies) - An Imperial Stormtrooper commando broke into Santa's Factory on the North Pole yesterday evening, killing an undetermined number of elves, arresting the owner and confiscating his sled. Joe Kwazansky, local spokesman for the Evil Galactic Empire in Los Angeles, appeared in a…
Not the most attractive or humunoid of robots, this particular piece of equipment is being called Sister Mary and is part of a trial run by the department of biosurgery and surgical technology at Imperial College. Basically, it allows doctors to look at patients remotely, though it may be a little jarring to see your…