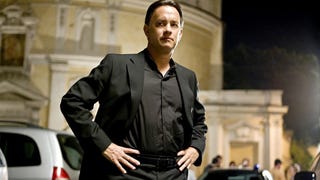 The next Da Vinci Code sequel will start filming in April, 2015, Deadline reports. We have Tom Hanks returning to star as Robert Langdon and Ron Howard back to direct. Weirdly, the studio's decided to skip one of Dan Brown's novels and adapt Inferno instead of The Lost Symbol. Is this a Freemason conspiracy?!…
Luke Chueh is best known for his bizarre and often bloody paintings of otherwise adorable bears and bunny rabbits. In his latest series, he reinterprets Dante's Inferno, casting his cute critters as the eternally damned.
BGR scored what appear to be renders of Motorola's 2009 product lineup. And it's looking...decent.
Yeah, yeah, I admit it; I got sucked into the Olympic Women's Beach Volleyball just like everyone else; the promise of women sweating and grunting a lot gave way to actually being completely into the whole thing. I cheered when Misty May-Treanor and Kerri Walsh spiked and high-fived their way to victory, and it got me…
If you remember Inferno, the giant Marvel Comics storyline that dragged Manhattan to hell in the 1980s, then you may be excited to hear that the X-Men will suffer through a sequel, called X Infernus, in which Colossus' evil sister Magik will strut her stuff again. But will Marvel remember to include the carnivorous…
Inferno is a "sonic barrier," a long metallic speakerbar that generates a sound made of four frequencies between 2 and 5 kilohertz. The sound itself is 125dB, which is the typical sound made by an alarm, but according to Danger Room's Sharon Weinberger, it's "the most unbearable, gut-wrenching noise I've ever heard in…