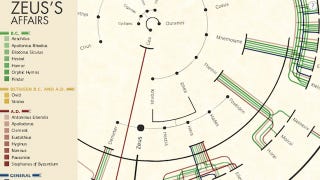 In Greek mythology, the god Zeus is perhaps best known for his wandering...ahem...lightning rod and the multitudinous offspring it produced. This massive mythological genealogy chart tracks every Olympian, demigod, and hero the thunder god was said to have sired, along with each child's mother.
Often referred to as the "trust hormone," oxytocin is typically associated with helping couples establish a greater sense of intimacy and attachment. Lesser known, however, is its potential role, if any, in preventing couples from cheating. But as a new study from the University of Bonn suggests, it may in fact…
People often think that open relationships increase your risk of catching a disease — but actually, openly seeing other people is much safer than sneaking around, a new study proves. According to a study published in the Journal of Sexual Medicine suggests that people in open relationships actually have less of a…
It may not be a CGI apology (bet his wife would've loved that!) but Tiger Woods will be making his first public apology live on YouTube today.