Infinity Blade is among the Gizmodo staff's favorite iOS games and it's getting an update to coincide with the iPad 2 launch.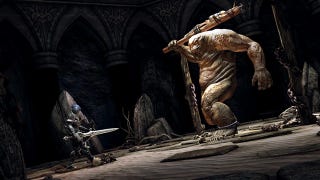 Infinity Blade, the stunning Unreal Engine 3-powered iOS game, just got a fat new update, bringing six new game arenas (essentially doubling the size of the game), ten new enemies, and over 30 new swords, shields, magic rings and the like. Hopefully you're knight's well rested. Oh, and the app is on sale for just $3…
Infinity Blade is a really, really good iOS game. If you don't have it already, and you like action games, you should get it now. Then you'll get a new add-on pack for it next week.
Then dubbed Project Sword, Epic Games' Infinity Blade had as grand an unveiling as any iOS game could ever hope for—an introduction from Steve Jobs himself. It's finally available, and, in short, it was definitely worth the hype.
Remember Epic Citadel and the "Project Sword" combat demo shown by Epic Games? That game's official name is Infinity Blade. Its unofficial name is Fucking Hell Gimme This Game On My iPad Now Now Now. NOW, goddamnit. Here's the new trailer.