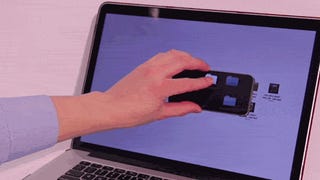 Have you ever held your smartphone up to your laptop screen and thought about how cool it would be if the two devices could work together, physically? Well now, thanks to a team from the MIT Media Lab, they can. New software lets you use your smartphone as an extra interface for a computer, and it looks awesome.
People have come up with a lot of interesting ways to put a digital spin on analog media, but Analogue Tape Glove takes a uniquely hands-on approach: Its special gloves let you stroke a tape wall to make sweet music.
We've covered how technology has shaped relief efforts in Haiti and shown how it has affected our perception of the nation's continuing tragedy. CNN is now offering new perspectives of the devastated nation with three interactive, immersive videos.
Yet another bizarre webseries has hit the net, but this one has a big budget and a real actor. MSN UK has debuted a miniseries called Kirill, about a heroic blogger 50 years in the future who tries to save us all from a horrendous disaster. The blogger's played by David Schofield (Gladiator, Pirates Of The Caribbean),…
London's interactive bar, TwentyFour, promises one thing — if there's a lack of feminine eye-candy, you can always pass the time by staring blankly at the ever-changing walls. The bar combines thousands of LED color combinations with walls that are, in fact, projection screens, creating one of the coolest bars I've…