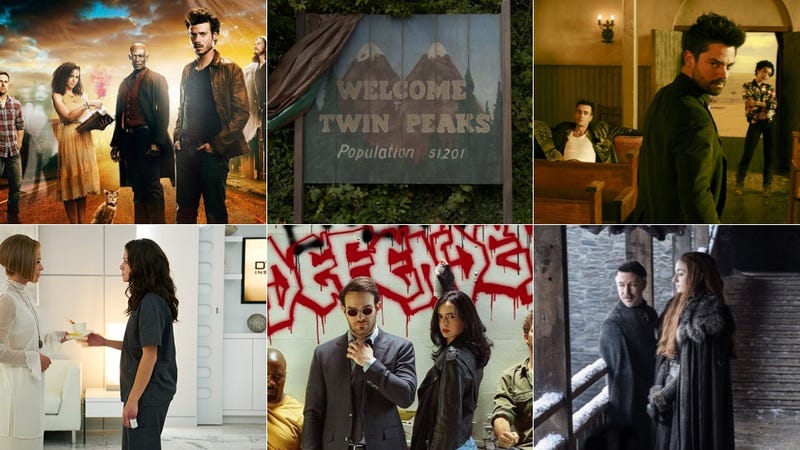 When summer comes, it brings with it lazy days in the sun and kids free of school. It also brings a slew of TV shows, perfect for watching when it's too hot to leave the air conditioning (which is most of the time). Here's the io9 guide to everything our beloved nerdy genres are putting up this year.

Ah, summer. The perfect time to think about going outside, getting some sun, enjoying all nature has to offer—and then staying inside to read comics anyway. Happily, this summer's titles will definitely keep you both occupied and entertained! Here's io9's guide to all the fantastic new series coming out over the new…
Summer always feels so full of things we should be doing, and yet, when there's so much new television, why should we even bother to leave the house? There's a bevy of new series about the supernatural, there are some welcome returns, including Mr. Robot. But this summer's biggest show is the long-awaited Preacher—…
Are you ready for one wild summer? This year brings legendary superheroes, famous monsters, and fantasy icons. There are two Michael Bay films, but also the ultra-weird Guardians of the Galaxy. Plus the post-apocalyptic Snowpiercer. Here are 33 science fiction and fantasy movies you need to know about this summer.
Every summer, there's at least one smaller movie that breaks out of the pack. A film that's not based on a huge comic book or toy franchise, with a budget under $100 million. Even though summer is supposed to belong to the big superhero and toy movies, there's always at least one upstart that surprises everybody. A …
There's a gobsmackingly diverse slate of comics hitting stores over the next three months. Here's a sneak peek at some of the newest series under the summer sun. What's on the docket? Doctor Who aboard the Enterprise, new League of Extraordinary Gentlemen, Nick Fury acting salty, and Jesus Christ's clone's reality…
Summer is almost here, and that means one thing: Escape! Everywhere in the Northern Hemisphere, humans will be fleeing their buildings and shedding their protective outer garments, even as the sun grows hotter and more intense. But for some of us, simply fleeing to large bodies of water isn't enough — we need to…
This year's summer movies just won't let up. There's Joss Whedon's Avengers, Chris Nolan's third Batman film, and Ridley Scott's long-awaited return to space horror. Plus maybe a dozen other movies that look like they could be totally fantastic. Here's our complete list of 32 movies coming out between now and…