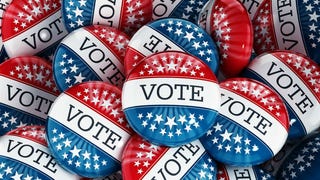 The Republican Party of Iowa exposed the voter data of two million people in what appears to be a really dumb accident, according to the Wall Street Journal.
The second Democratic Presidential Debate came in the wake of the horrific attacks in Paris and there were plenty of opportunities for the candidates to discuss the future and rehash the past when it comes to fighting terror and dealing with military affairs. Foxtrot Alpha dissected these statements just as we've…
Some time in 2015, Iowa will become the first state to offer an official app from the state's Department of Transportation that can serve as your driver's license and ID. That's pretty incredible. It's also getting us much closer to a more convenient, wallet-free future.
Danish-Icelandic artist Olafur Eliasson is a master of light and color, creating trippy experiential works that mess with our perception. The artist's latest piece, recently installed at the John and Mary Pappajohn Sculpture Park in Des Moines, Iowa, is like walking inside a human-scaled spectrograph.
To combat the rampant manufacture of meth, Iowa passed a bill in 2005 making it one of the first states to place pseudoephedrine behind the counter at pharmacies and placing limits on how much of the drug individuals could purchase. And, in 2010, Iowa joined the national database to track the purchase of…
Official Worst Tweeter Chuck Grassley today further proved his technological ineptitude, when in the middle of his own speech on the senate floor, the senator's iPhone began to ring, interrupting his discussion of some unspecified "standards."
You're in the middle of a midwestern field right now. You feel a warm breeze gathering. Then wall of clouds starts heading in your direction. The wind gets stronger. Then a thunderstorm comes out of nowhere.