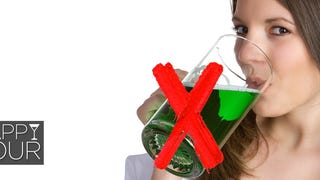 Listen, friends don't let friends drink green beer. We're talking about cheap light beer, plus green. Yum. Is this what your Irish grandfathers and grandmothers worked their fingers to the bone for? No! It's possible to make a drink that pays homage to The Emerald Isle without compromising your dignity in the process.…
Cold brew coffee has recently gained a massive following for its incredible smoothness and delicious flavor. Irish coffee, being caffeinated and alcoholic, has been popular for even longer. Too bad Irish coffee usually tastes like an 80-proof mug of acid.
For some reason, we humans love to make solid foods liquid, and liquid foods solid. Key Lime Pie Martini? White Russian Ice Cream? I rest my case. Today, in honor of St. Paddy's Day, we're taking three Irish liquids, and making them into one awesome solid.
If you've got a little Erin in your go Bragh, you'll want to be able to show it off on March 17th. And while the Irish Heraldry app has been around since December, tis finally the season to get your Irish up. The app packs in 1200 Coats of Arms, full color family crests, and a guide to what those symbols actually…
In light of this thrilling aviation story out of Ireland today, let's rethink this whole banning of the in-flight cell phone conversations, shall we? Sure, allowing for calls during that 6-hour red eye from San Francisco to Boston will bring out the jerkoff in a lot of people, but then again one of those jackasses…