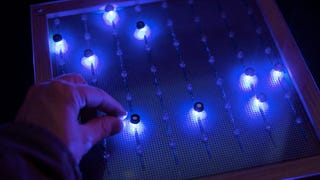 Sometimes it's the simplest ideas, executed well, that work. At ITP, this controller interface by John Kuiphoff uses magnets placed on a grid to control a Bloom-like synthesizer, play games, and more.
The DraWiing Jackson Pollock project uses an IR detector, a projector and a Wiimote to recreate the drip-and-splatter works of everyone's favorite hard-living abstractionist. It's really fun, as you can see.
One of the projects that caught our eye at NYU's ITP winter show last night (the program that brought you Big Screens) were the Head(banger)phones, accelerometer-equipped to change the music as you bob your head.