A couple of weeks after releasing iTunes 9, Apple has released the 9.0.1 update to work out some of the kinks.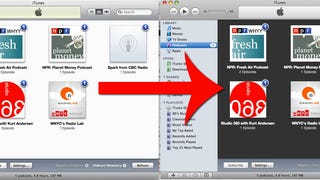 I'm still on the fence about iTunes' blindingly bright new new color scheme, but a lot of people, uhh, don't care for it at all.
You're never gonna buy an iTunes LP, but you wanna know what's inside those flashy 600MB attempts to revive albums, right? Spoiler, from Jay Robinson: A bunch of HTML and PNG files in a custom archive format. But no DRM.
Sure, Apple's iPhone OS 3.1 includes a couple of new goodies like iTunes-based App management, but if you like your Jailbroken or Unlocked iPhone, sit tight until Dev-Team gives the all clear. You could otherwise lose your unlock for good.
The download page is live for PC and Mac versions of the new iTunes—and here's why you should definitely get it.
Those reports about a new scheme to "stimulate sales of CD-length music" were true, and then some: Along with extras for albums and movies, iTunes 9 comes with media sharing (!) and iPhone app management. Updated with walkthrough gallery.
Is it bad that I hope only one of the rumors about iTunes 9's explosion of new features, like social networking integration, come true?
One of Boy Genius Report's sources, which he says is reliable, hinted at a few of the new features to be found in the upcoming release of Apple iTunes 9. Let's take a look.