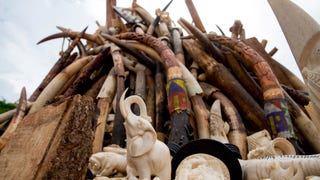 Illegal ivory comes from dead elephants. It comes from elephants that were killed recently, and if you try to argue otherwise, you're wasting everyone's time. Hidden ivory stockpiles are not the problem. Freshly slaughtered elephants are, and now, science can prove it.

The online activism network Avaaz has made a name for itself exposing websites complicit in the illegal ivory trade. Last year, the group launched a highly publicized campaign to pressure Craigslist into banning ivory sales. Its latest target? Yahoo Japan.
Tracking the movement of ivory through the nebulous, international black market is extraordinarily difficult. But we need to start doing a better job of it if we want to stamp out the illegal trade that claims 100 elephant lives every day. One journalist's solution? Build the world's most convincing fake tusk, and…
Jake Wall is a research scientist with Save the Elephants. As part of his work, he followed the travels of one particular male elephant called "Mountain Bull." But that research ended abruptly last month when Mountain Bull was slaughtered by poachers.
I'll say it: I love Antiques Roadshow. The look on the faces of folks who find out on national television that their priceless antiques are really worthless hunks of junk is, well, priceless. There's just one problem: by appraising ivory the PBS show communicates the idea that elephants are worth more dead than alive.
If you thought it was hard to get your hands on ivory from animals that still roam the earth, you can imagine the difficulty in sourcing the material from creatures that died thousands of years ago. And why these unique mammoth watches cost upwards of $44,000.
This slider cellphone has a shell of ivory, intricately carved with dragon designs. The ivory, harvested from Elephant, Mammoth(?) and camel teeth, taking three engravers over 3 months to make. Only six available, worldwide. The brightside: At over $20,000 dollars, the proceeds will go towards destroying baby seals…