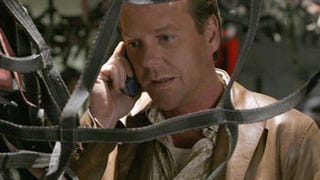 According to Rodney Charters, director of photography on 24, print media might not be the only thing Apple's tablet is saving in coming months. Charters cheerfully Tweeted that Jack Bauer might wield the ubergadget later this season on 24.
Coming off a story about a Wal-Mart employee intercepting conversations and text messages between Wal-Mart PR and a NYT reporter, Slate takes it upon itself to teach you how to do just that with your own dinky cell phone.
If there's one man that can take down the threat to national security that is the Aqua Teen Hunger Force Mooninites, it's Jack Bauer.
Jack Bauer is definitely a badass. No getting around that fact, but he actually uses a lot of gadgets and gear that can be purchased by any average joe. Everything from a Brunton Echo Pocket Scope Monocular, Motorola i880, military-style messenger bag and special ops watch can all be owned so you can attempt to…
Though it sounds like something out of a sci-fi flick, Defense Tech is reporting that China has successfully tested an anti-satellite weapon. They conducted the test by demolishing an old Chinese weather satellite over 500 miles above the earth. What does this mean for us? Well, unless we can get a real-life Jack…