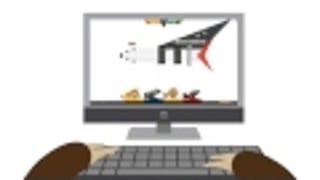 Sitting at a desk working is not the same as living the childhood dream of playing in a rock band. But now you can relive those adolescent ideas by jamming with your friends in Chrome, courtesy of Google.
It was just after midday in San Diego, California, when the disruption started. In the tower at the airport, air-traffic controllers peered at their monitors only to find that their system for tracking incoming planes was malfunctioning. At the Naval Medical Center, emergency pagers used for summoning doctors stopped…
Apple showed everyone how GarageBand for iPad can teach non-players how to strum like a pro, but if you've already got a guitar (and the skills), this $99 Apogee JAM studio-quality input can connect the two together.
When I first came across this photo I thought it was a new classified starfighter being tested by the Navy and Boeing Phantom Works in a secret underground anechoic chamber in the Moon. Then I realized it had the shape of something closer to Earth: It looked like an F-18 but it is not. It's an EA-18G Growler, a…