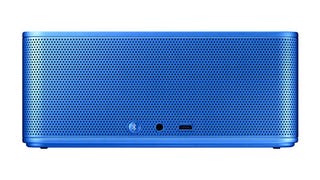 No, that's not an picture of Jawbone's now-iconic Jambox Bluetooth speaker. It is, in fact, the new Samsung Level Box mini.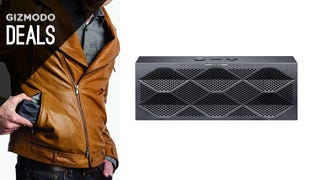 The Jawbone JAMBOX line is your favorite series of bluetooth speakers, and today you can save big on the latest iteration, the MINI JAMBOX, which starts at just $106. By starts at, we mean the price varies by color, but fortunately the "graphite" is the most universally appealing and the cheapest. [Amazon]
For all the gazillions of wireless speakers out there, Jawbone's Jambox is almost certainly the best-known. Last year the company introduced a Big Jambox, so it shouldn't really be any surprise that they'd come along with a smaller one as well: Mini Jambox.
So Jawbone's BIG JAMBOX is getting itself a firmware update today that promises 2 (!) more hours of battery life.
He's always asking you to find cool stuff for him on the Internet. She lovingly calls you geeky, in a cute way. They always think you know everything about technology because they know nothing. Like, literally nothing. To them, a Galaxy S III is a Droid. Or, even worse, they think it's a Samsung iPhone. These people…
In the two years since the Jawbox Jambone came out, other options have hit the market with varying new features and improved specs. But although some of the new challengers are legit, the Jambox remains the original Bluetooth speaker to find the right mix of attractive design, ease of use, and quality. Brian Lam over…
Starting today, Klout users and "Jawbone Insiders" can customize the color of their Jambox speaker on Jawbone's new Jambox Remix site. Klout and the uglification of a perfectly good speaker sounds like a match made in heaven; the rest of the world will have to wait until August 28th for the privelege of mucking up…
From the looks of it, Swiss-born Yves Behar may have beaten Apple at its own minimalist design game. Our friends at Oobject have assembled 12 of his best creations.
For $200 you can pick up one of the cutest little Bluetooth speakers around. Jawbone's Jambox has gone on sale at Apple and BestBuy in a range of cute-as-a-button colors. [Apple via SlashGear]