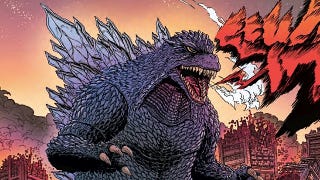 A few years back, Orc Stain artist (and io9 favorite) James Stokoe did a short concept piece titled World War G, in which Godzilla trashes Tokyo in Stokoe's grimy-gorgeous, hyper-detailed fashion.
When comic author Mark Andrew Smith (The Amazing Joy Buzzards) and artist James Stokoe (Orc Stain) completed their "minor league baseball team versus unspeakable cosmic horrors" graphic novel Sullivan's Sluggers, something downright criminal happened — barely any comic stores ordered the book.
Every time James Stokoe releases a new issue of Orc Stain, there ought to be an unofficial global holiday during which everyone across the planet takes the day off to admire the comic's gobsmacking line work. This insane fantasy warfare comic only comes out once in a while, but it's worth it and then some. Courtesy of…
Orc Stain and Wonton Soup creator James Stokoe turns his incredibly detailed eye on everyone's favorite wallcrawler, placing him far from the supervillain-filled streets of New York, and casting him as a masked soldier in the short comic "Spider 'Nam."
A Godzilla comic from one of the most exciting new comic book creators out there? Yes please. There's only one problem with James Stokoe's World War G... It doesn't actually exist yet.
Anything that can be pitched in high concept terms as "Iron Chef meets John Carpenter's '70s comedy Dark Star" has, according to recent studies, a 99% chance of being almost unspeakably awesome. And James Stokoe's Wonton Soup, a 184-page graphic novel from Oni Press, doesn't let us down in that regard. Find out about…