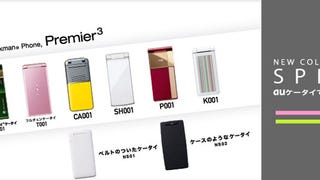 In case you're curious about what else our friends across the Pacific are getting, here's some more of KDDI au's Spring 2009 line. This season's trends: 3-inch-plus screens, easy global calling and fitness.
Surprisingly absent until now, touchability has finally made it into the KDDI au line-up. Casio's offering utilizes a 3.1-inch touchscreen for some funky music apps — making it a music studio in your pocket.
Hitachi's new Wooo, part of Japan's KDDI au Spring line, comes with the unique ability to watch 3D videos. Sounds coool, even if the 3D-induced woooziness will have you switching back to 2D in minutes.
Proving again that Japan has the prettiest phones in the world, au by KDDI has released its Fall and Winter lines, showing off eight new models with emphases on super bright and big Organic EL screens, multimedia "au BOX" connectivity, and a funky mobile personal trainer and calorie counter called "Karada Manager."…