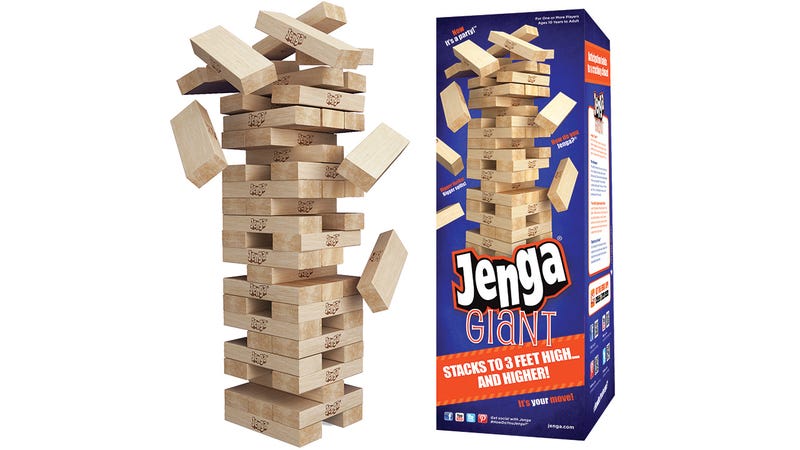 Like with any kind of motorsport racing, the only reason people play Jenga is the anticipation of the inevitable, and often spectacular crashes as the tower they've assembled finally collapses. And short of making the Jenga blocks out of shattering glass, the only way to make those collapses even more spectacular is…
Jenga is amazingly fun and in need of no innovation. However, as this video shows, it is possible to make Jenga even more fun. Just add a chess clock into the mix.
Twenty-seven wooden blocks weighing 600 pounds each? That's no regular game of Jenga—that's a job for a team of five giant, yet agile, Cat excavators and telehandlers to take on. Just some machines having fun.
Jenga is one of those rare games that turns an incredibly simple concept into an endlessly playable challenge. Like Tetris, checkers, or tic-tac-toe, it doesn't need improving, but that didn't stop Hasbro. Borrowing an idea from the classic Perfection game, Jenga Boom includes a ticking time bomb base that…
After a magazine article noted that its reception area was "small and routine," ad agency Boys and Girls decided to do something about it. So they created this brilliant floating reception desk that looks like it was inspired by Pixar's Up.
Sure, it takes its design inspiration from the popular game of toppling wooden blocks. But using this Pixel Table from Studio Intussen isn't going to leave you with stress-induced ulcers from worrying about its imminent collapse.