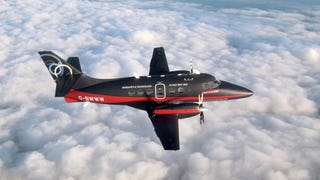 Being a commercial airline pilot isn't as glamorous as Leonardo di Caprio would have you believe; in practice, it's more akin to long haul trucking than aerial acrobatics. So rather than force a human pilot to endure the monotony of maintaining course, a European research consortium wants to replace them entirely—with…
Of all the fake, gimpy, tortoise-slow 4Gs of the world, AT&T has historically been far and away the fakest, gimpiest, tortoise-slowest. But the real-deal LTE hotness is coming soon. And as this real-life demo shows, it's going to be blazing.
The HTC Jetstream, formerly known as the Puccini, is headed to AT&T on September 4th. It's running Android 3.1 on a 10.1-inch screen (nice!) and will be AT&T's first tablet with real 4G LTE (really nice!). For some reason though, it's going to cost $700 (ugh).
Just like the shiny rocks they're named after, RCA's line of Gem MP3 players aren't that fancy. The Pearl is a tiny 1GB thumb drive player with a MicroSD slot, designed for the barebones minimalist. For $49, you get a backlit screen that can alternate between seven colors, and a AAA battery will power the player…