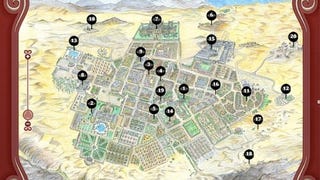 A starry eyed Number Six, Jim Caviezel, helps a fellow villager with the "remnants" of a dreamer — and by remnants we mean body. Check out this exclusive clip from The Prisoner, plus a map of the newly rebooted Village.
Let the mind games begin. In this exclusive trailer from AMC's miniseries remake of The Prisoner, see the many ways Number Two (McKellen) plans on messing with Number Six (Jim Caviezel). Plus, is that a baby Number Two?
At last, we can witness the Ian McKellen/Jim Caviezel battle of wills (and acting.) AMC's remake of the The Prisoner will air on November 15 and stretch over three nights — that's six hours of mind twists.
Call it the Butterfly Radio: in Frequency, a guy discovers his old ham radio can talk to his dead father, 30 years ago. And this causes endless time-paradoxes, including a serial killer. Good thing the 1960s dad is Dennis Quaid.
The Viking-monster death-match movie Outlander is opening in Spain next week, so a bunch of clips have turned up online. Sadly, they're all in Spanish. But at least this clip, featuring our first look at the Outlander monster, the Moorwen, is mostly in the sweet language of flaming arrows, Viking spears, and deadly…
Outlander, the Vikings vs. alien monster epic, finally had its big premiere in Switzerland last week, and the big media outlets were there. Unfortunately, the Viking epic generated a lot of negative reviews, accusing it of being "too slow" and badly acted. And the more bad reports we hear about our Viking pals, the…
Before there was Lost's Dharma Initiative there was The Village from the trippy/paranoid 1960s TV series The Prisoner. And now a six-part miniseries is in the works remaking this spy-trapped-in-paradise show, starring Jim "Jesus" Caviezel as Number 6 and Ian McKellen as his main adversary, Number 2. More details about…