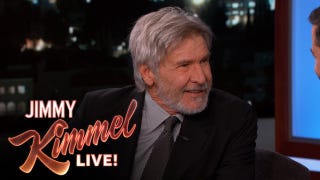 We probably shouldn't read too much into it, but Harrison Ford returned yet again to Jimmy Kimmel Live to promote The Force Awakens, coming soon on digital download (god knows it needed the press). But when Kimmel asked him if he was definitely not coming back for more sequels, Ford playfully dodged the question...…
Sunday was supposed to be all about the Oscars on Jimmy Kimmel Live but, really, it was all about Batman v Superman. The host had Ben Affleck on to talk about the movie, premiered a new clip, and showed this special "deleted scene" from the film.
Kit Harington, whose pouting face and glossy locks appear weekly on Game of Thrones, stopped by Jimmy Kimmel Live last night. And so they brought on a trio of Jon Snow impersonators to do their best for the man himself. One read a box of Frosted Flakes, in character; another read some Sherman Oaks real estate…
Jimmy Kimmel has been making celebrities read mean (often fake) tweets about themselves for some time, but now he's expanded to the world of the NBA. And that's a good thing, because now we get to watch Rajon Rondo face the fact that he looks like Franklin the Turtle.
J.J. Abrams stopped by Jimmy Kimmel Live last night to promote Star Trek Into Darkness, at least until he was asked about the Star Wars sequel. When he admitted he and his team were having some writer's block, a group of fans helpfully offered their opinions on what we should see in Episode VII. I tell you, I think…
We all know actor Harrison Ford and Chewbacca had a serious falling-out at some point, as evidenced by a disturbing confrontation behind-the-scenes at Jimmy Kimmel Live. It's gotten worse.
What's this? Former Apple spokesperson Justin Long, using a jailbroken iPhone on Jimmy Kimmel Live? He's no longer under their thumb, so can use whatever he damn well pleases—but will he use a WP7 come October? [Thanks, Tolk!]